Serving the Heights and the Surrounding Areas
"Top-Notch Workmanship by Seasoned Professionals"


At URM Renovation Co., we are focused on fixing things, rather than just selling you a new roof.
As family-run business, established in 1999, we believe in being an integral part of the community and the customer we service. So we are never far away in case anyone has a problem.
Shingles on full roofs: get lifetime manufacturer's warranty and homeowner's time in house.
Call: 216-371-5944
Prompt and Reliable Repair Service
Did your shingle or flashing blow off? Strong winds can often blow away your asphalt shingles. Count on the CertainTeed Master Shinglers at URM Renovation Co. based in Cleveland Heights, OH, to find proper resolution for all your roofing repair problems at affordable rates. Hire us and we will provide you with a cost estimate and on the spot fixing.
High winds, heavy snow accumulation and falling trees can have a devastating effect on your home's overhead. More so for your asphalt roof, which might have its shingles blown away. Let our accredited team of certified roofers take care of all your roofing repairs. Not just that, we'll also repair leaking chimney and flashings with new ones.
Specialized slate and tile repair
Slate and tiles are membranes that are installed over the wood decking. Don't let a small leak issue become a major problem. Enlist our services and we'll inspect and replace anything and everything that has to be replaced. We value your time and money and as professional you can count on us to show up on time and work till the completion of the job.
Put a stop to leaking valleys
Take slate or tile out

Pull old copper valleys out

Install new copper valleys to roof

Reinstall slate and tile.

Let our knowledgeable team handle all your leaky issues. Our services include: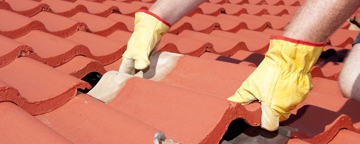 Dependable Roof Repairs Your Home Deserve